How to Organize a Dining Room in 3 Easy Steps
Don't overlook your dining room in this season of organizing! You can organize your dining room with some simple and practical steps. Here's what helps me and hopefully it will help you too! Keep reading for some great organizational tips from some of my blogging friends too!
Who else spends part of January decluttering, cleaning, and organizing all the things?!
That's definitely the case every January over here!
If you are clicking over from The Happy Housie, thanks for stopping by! She has some great organizing ideas and I'm getting a lot of inspiration from everyone in this blog hop!
Fortunately, for me, I took a few Saturdays in the fall and did a ton of cleaning out. I can't clean things out without organizing as I go, so I thought this would be a fun time to answer one of my most asked questions:
Where do you store all of your tablescape items?
That's a fair question! If you follow me over on Instagram,
you know that I do a #tablescapetuesday every week
…or almost every week, at least! It seems like I would definitely have a LOT of tablescape items, right?
Actually, the reality is probably somewhere right down the middle. I have a lot more table items than a minimalist and a LOT less than a dishes hoarder. Haha!
Other than my wedding china and a set of dishes from each of my grandma's, I only have one set of white dishes and a set of ironstone plates, along with hodgepodge ironstone pieces that I've picked up along the way.
In my defense, I wouldn't categorize that as a dishes hoarder, right?!
On the other hand, I have an exceptional amount of napkin rings. It's the truth. I love them and don't apologize because I use them all!
Keeping an organized dining room is literally crucial to my sanity, especially when I'm setting a new tablescape almost every week!
I've had to adjust and switch things around, but I've finally figured out some organization that makes sense, is convenient, and WORKS!
How do I organize my house and keep it organized?
For the dining room, there are more specific steps I follow. However, no matter the space in your home that you need to organize, you can follow this general idea and tweak it to fit the space.
Remove every single item from the drawer or cabinet.
Deep clean.
Purge items that are broken, worn out, unused, or no longer loved. (If you don't love it and don't use it, get it out of there!)
Set sentimental items that are unused aside to be stored in a special place.
Group like items together.
Take an inventory of items you have too many of or not enough of.
Make a shopping list for items you need to get.
Make the second purge by weeding out items that you have too many of. (In the dining room/kitchen, for example, how many drinking glasses or coffee mugs can you actually use?!)
Place items back into the drawer or cabinet; be intentional.
Make a plan to frequently take a peek through the drawer or cabinet and purge any build up of extra items.
What are the three basic steps to organize your home?
In general, here are the 3 basic steps you want to follow for any space that you're trying to organize:
Remove everything and clean.
Purge.
Intentionally refill the space.
Organizing, in general, is a really personal thing. When I read blog posts or books about organizing, I know in advance that almost none of the exact things are going to work exactly the same in my spaces.
However, it almost always sparks an idea or a different way of thinking that can help me organize my spaces in ways that work for our family.
Every home is different, every layout is different, every lifestyle is different, every collection of items is different…so
every organizing will also be different!
My goal today is not that you'll be able to organize a dining room exactly like mine because we all have different spaces and different needs.
Hopefully, however, it will give you a little motivation, inspiration, or a new idea that will help make your dining room even more functional and joyful!
How to Organize a Dining Room in 3 Easy Steps
Step One to Organize a Dining Room
Start to organize a dining room by taking everything OUT!
I know that sounds super overwhelming. It's my least favorite part. BUT, there is no way to properly organize a space without knowing exactly what you have.
Even if you think you know, there is something about laying it all out (I use my dining room table) that helps the puzzle pieces fit together a little better for optimal organization.
As you lay things out, group them into sections. You could group them different ways (and I've tried all of them!):
Group by season
Group by how often you use them
Group by type of item
Group by style of item
For me,
grouping by kind of item has worked the best.
Other than napkin rings, I really don't have much seasonal tablescape decor. I do have pieces that I mix and match depending on the seasons!
If you really watch, you'll notice that I use the same pieces over and over and over, just mixed and styled a little differently to create a variety of looks for each season!
Pro Tip: You need a lot less than you think you do. Consider investing in neutral pieces that you love and can reuse throughout the year.
Step Two to Organize a Dining Room:
Sort, purge, and declutter. Carefully consider what is going to go back into your dining room.
As you are grouping items,
weed out any items that you don't use or don't love.
Separate items into keep, toss, donate, or sell. Once I get the items sorted, I like to take everything that is NOT staying in the dining room somewhere else. If possible, I go ahead and bag up the toss and donate and get them out of the house ASAP! Items to sell are put into a tote in the garage for the next time we have a yard sale.
How do you declutter nostalgic items?
Pieces that you want to keep for sentimental reasons should be stored all together in their own special spot. For me, the hard-to-reach cabinet over the refrigerator is perfect!
You probably have some kind of storage area in your home where you can keep sentimental, fragile pieces without taking up precious real estate in your most convenient places!
I'm not here to tell you what you should or should not keep. Goodness knows that most people would take a look at my dining room and tablescape items and say I should get rid of a bunch of it!
I think I get a little bit of leniency since I'm setting so many tables, though, right?!
What do you store in your dining room?
What I will say is as you organize a dining room, to carefully consider what you put back in your storage. When I did my big clean out in the fall, I didn't realize how many of certain items I had. Since I am never setting the table for 20 people, I kept 12-14 and put the rest in my yard sale pile!
I like to keep the following kinds of items in the dining room:
dishes that aren't used everyday
napkin rings
cloth napkins
place cards and place card holders
place setting decor
small sets of bowls or plates to use on place settings
sets of vintage items, like my copper mugs or French soup bowls
How do you purge excess stuff?
Here are a few things to consider getting rid of:
Extra items
Pieces that aren't sentimental, but don't fit your style any longer
Things you can't remember even using
Items you picked up for special events but no longer need
Pieces that no longer match your decor
Anything that isn't in good condition (because you won't end up using it, even if you still like it!)
Napkins or towels that are stained or too worn
Step Three to Organize a Dining Room:
What works for me won't work for you! Instead, follow these simple suggestions:
I could give you tons of links of great organizational tools, drawer organizers, bins, baskets, and totes. The truth is that they are such a personal preference and a
space
preference too!
Instead of diving into the details of what divider to use in each drawer, let me give you a few rules of thumb that help me organize a dining room in a tidy, functional, and enjoyable way!
Here are a few simple suggestions that can help organize a dining room and/or kitchen space:
Keep the items you use the most often easily accessible. Store functional items in plain site: Dishcloths rolled in a pretty dough bowl, flatware in a vintage crock, or everyday dishes on open shelves.
Store things that you actually use…just not often…in the high cabinets! This is exactly why I chose kitchen cabinets that go all the way to the ceiling!
As much as possible, store things in the room you'll use them in. For a long time, I used the little apothecary drawers in my music room to house my napkin rings. It worked, but now that I have drawers in my dining room (check out my apothecary makeover HERE), it is very helpful to have them in the dining room.
Use your pretty things! I love ironstone jelly molds...I don't know why, I just love them! I keep one by my sink to hold my dish sponge! The sponge is an unattractive but needed item. Housed in my pretty dish keeps it convenient AND looking nice too!
What is the proper way to arrange a kitchen?
If your dining room is near your kitchen, it is likely an extension of your kitchen storage and organization! Consider how you can make both spaces more functional by having them work together for optimal organization!
Sometimes my dining room items tend to spill over into the kitchen and a quick reorganization can keep both rooms more tidy and items more easily accessible!
Miscellaneous Tips to Organize a Dining Room
How can I be more organized at home?
Side tip: Don't overbuy items. You really and truly don't need a drawer full of dishcloths and another one for pot holders! I promise! Just because it's a cute dish towel, only purchase it if you need to replace what you already have!
Don't overthink your decisions. Other than a few sentimental pieces, it really is just all "stuff" and there will always be more cute stuff. I won't say I've never gotten rid of anything and later regretted it, but much more often, I am so glad I took the time and effort to purge and clear things out in our home.
Invest in quality items that you truly love! Rather than buying 5 different sponge holders that you don't really like, invest in the one thing…for me, the jelly mold…that is functional, interesting, and pretty!
Helpful tools for organizing:
Expandable drawer organizer (not just for flatware; you can use this for napkin rings and place card holders too!)
Bamboo drawer dividers: Expandable to fit many drawers; perfect to divide table linens or small dishes and keeps them from clanking together and breaking too!
Wooden rack: Make plates and platters easily accessible and safe from breaking in a cabinet
Maybe your dining room and kitchen areas are already super organized. But maybe, just maybe, you have a few places that you need to do a quick clean out and declutter.
Here's your motivation and hopefully a few ideas
that can help make these important spaces as enjoyable as possible!
For more organizing ideas, make sure to visit all of the bloggers sharing in this hop today. You are going to get so much inspiration, a variety of wonderful ideas for different spaces around your home, and take a peek into how these busy bloggers keep things organized and functioning at home too!
Next, hop on over to My Sweet Savannah. I know you'll love her blog and organizing ideas today. Plus, I love her home decor and DIY inspiration too!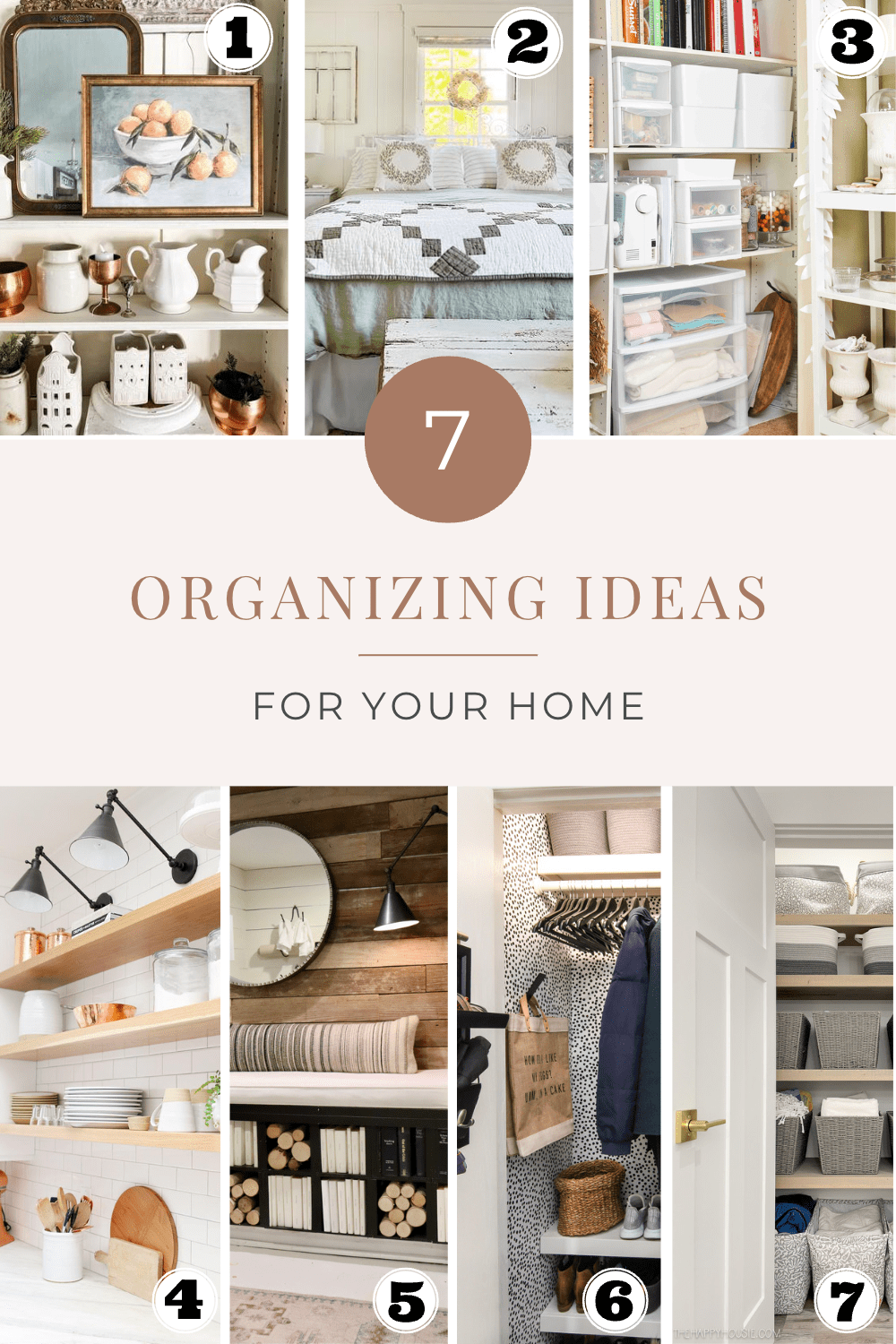 How to Organize a Dining Room in 3 Easy Steps // Robyn's French Nest
How to Organize a Small Bedroom for Guests // My 100 Year Old Home
DIY Storage Closet Ideas to Double Your Storage // Happy Happy Nester
How To Create A Clutter-Free Kitchen // Modern Glam
Basement Organization // My Sweet Savannah
Easy DIY Hall Makeover // Inspiration For Moms
Organizing Your Whole Home // The Happy Housie
Blessings,