How to Easily Decorate a Mantel for Spring: Simple Styling Tips
Create an inspiring focal point in your room and decorate a mantel for the spring season! Keep reading for easy decor tips and ideas for simple styling around your home.
As we head into a new season soon, I love to poll my readers to see what they need help decorating or what inspiration they are looking for.  No matter the season, decorating a mantel always rises to the top!  I am currently working on designing my own mantel decor for the new season so I thought, how better to inspire all of us than to share some simple tips and ideas to decorate a mantel for spring?
We will look at my mantel decor "must-haves", how I go about the process of decorating my mantel, and look at some examples of different styles of spring mantels that I've enjoyed creating.
Hopefully at least one of these mantel ideas will spark some creativity for your own home this spring season!
Before we dive into these steps for decorating your spring mantel, I want to say a quick welcome to any new friends hopping over from Twelve on Main.  I love her spring decor tips and ideas in that blog post!
It is so fun to be joining some of my blogging friends today to share some of our favorite spring home decor decorating ideas to give you even more inspiration.  You can continue the spring decor tour at the end of my post!
​Is it "mantel" or "mantle"?
Before we can style our mantel, let's talk about spelling.  I made good grades in school, but I still have to double check with my word-wizard husband every now and then to see if I'm spelling it correctly!  You too?  Oh good!
According to Webster's Dictionary:
"Keeping mantel and mantle straight is relatively simple.  Mantel in modern English largely does one job: it refers to the shelf above a fireplace.
Mantle, on the other hand, does many jobs."
Such as:
"a literal cloak"
"a figurative cloak symbolizing authority or importance"
"general covering in literary uses"
"middle layer of the Earth between the crust and the inner core"
There is a catch, though, says Merriam-Webster:
"Mantle is sometimes used to refer to the shelf above a fireplace as well—that is, as a synonym of mantel."
So, basically, you can spell it whichever way you like!  And feel smarter in the process!
More importantly, let's get them styled!!!
How to decorate a fireplace mantel for spring?
Now that we have the spelling and meanings figured out, let's take a look at some styling ideas for your spring mantel.
Here are some favorite decor styles/themes that I've enjoyed using for my spring mantel decor:
Vintage Garden
Spring Cottage
Spring Easter
Vintage Audubon
Spring Greenery
What exactly do you need for each of these styles?  Let's take a look!  Along the way, I'll share some tips to make decorating your spring mantel easy and hopefully, fun, too!
How to Easily Decorate a Mantel for Spring: Simple Styling Tips
What should I display on my fireplace mantel?
No matter what season or particular decor thread you are weaving into your mantel styling, there are several things to consider.  We will look at each on specifically below:
Symmetrical vs. asymmetrical
Curated pieces
Create meaningful layers
Amount of objects
Height variation
Create meaningful layers on your mantel decor.
My key ingredient for mantel styling is to create layers.  This is a wonderful place to add a lot of texture and character with architectural salvage, vintage mirrors, and artwork.  Accessories such as greenery, candlesticks, and vintage books are always my go-to pieces.
Mantel styling can be as full or as minimal as you prefer for your own home.  No matter which style you choose, it is a fun place to be creative and think outside the box.
Obviously, I am not a minimalist and I just can't imagine myself styling our home in a minimalist style.  However, I have seen stunningly beautiful minimalist styles that still feel cozy and intentional.  Examine these homes carefully you'll find meaningful layers throughout their spaces.
Consider symmetrical vs. asymmetrical mantel styling
For a more traditional look, you may consider a center statement piece, such as a large piece of art, salvage, or a mirror, and flank it with matching accessories.  The symmetry definitely gives that inviting look of traditional design.
For a more curated look, both vintage or modern, you may want to consider an asymmetrical design.  This is how I like to style mine and it allows me to use a wider variety of décor pieces too.
The other great thing about mantels is that it is perfectly acceptable to place them almost anywhere in your home!
For example, we live in Florida and don't have a fireplace.  We actually had one in our old house that we never used…not even once!
However, I still love to decorate a vintage mantel and this one works great behind our sectional!  Think of a mantel as really big, really wonderful vintage wall art!
Curate mantel decor that speaks to your style.
Whether you are decorating a mantel for spring or working on styling another space in your home, this concept is still true.
Avoid buying decor just to have decor.  Instead, focus on curating pieces that you truly love.  This is what defines your unique home style!
Consider the number or amount of objects you want to decorate a spring mantel.
This tip is entirely up to your personal preference.  Some decorators may suggest leaving about one third to one half of the mantel open, meaning, having no decor on it.
For me, I love using my mantel as an opportunity to anchor a gallery wall and display curated collections.  Therefore, my mantel decor is always very full!
Either is completely fine.  However, a good rule of thumb is to use an odd number of items.  For example, if you put a set of 3 candlesticks on one side, add two crocks with flowers on the other side.
This leads to the next very important rule of thumb for mantel decorating, no matter the season:
Creatively vary the heights of your mantel decor.
Let's use the candlesticks and crocks for a continued example.  If I were to decorate a spring mantel with these items and they were all the same height, it would not have the same curated approach as if I vary the heights.
If the items are already the same height, add a small architectural salvage fragment or a stack of old, vintage books.  These items will not only vary the heights but will also add even more character and dimension to your spring mantel decor.
At the same time, having the items all the same height kind of feels like the decor was just plopped up there without much rhyme or reason.  Instead, creating height variation will in turn create beautiful vignettes for your mantel decor.
The exception is if you are using the exact same items on each side, flanking a center focal piece hanging over the mantel.  In that case, the items may have the same height as the items on the opposite side.  This is an intentional design choice.
Idea #1 to Decorate a Mantel for Spring: Vintage Garden
I created this spring garden mantel one spring and still remember how much I enjoyed it.  My inspiration was this piece of modern farmhouse art from @the.little.bird for the base.
You'll notice that I intentionally off-centered it on the mantel.  Then, I layered an arched salvage frame in a chippy white patina, along with a vintage gold mirror.
The three different sizes of these pieces worked well for layering and connected the different décor elements in the rest of the family room: white, wood, and brass.
For a vintage statement, I added this old water lilies sign.  This is a favorite vintage find from Rehab Vintage Market (a favorite vintage stop in Melbourne, Florida).
Visually, all the white pieces and reflective surface of the mirror felt light and didn't overpower the room, though it filled the wall.  At the same time, the collected look of these pieces gives a curated feeling to the overall decor style
Vintage Garden Accessories
For accessories, I added thrifted, small, old terra cotta pots and plants for the vintage garden vibe.  And of course, a bunny!
The Target Dollar Spot featured these terra cotta colored bunnies one year.  Now, I'm glad I grabbed a couple of them for those vintage garden-style vignettes!
Two faux terra cotta arrangements hanging from the ceiling bring some extra dimension to the spring mantel decor.  Since they are light weight, I was able to use a simple jute twine and thumbtack!
I finished off the accessories with some faux eucalyptus stems and added height variation to the plants and terra cotta pots with some deconstructed books.
Here are some favorite accessories online to decorate a spring garden mantel:
Idea #2 to Decorate a Mantel for Spring: Cottage Style
Notice that arched architectural salvage?  I used it again in this spring mantelscape!
If you follow along with me for long, you'll notice that I use many of the same pieces over and over and over again!  This is the main reason that I love investing in unique, vintage items.  I am able to enjoy them in all seasons, mixed and matched in different ways, and styled with many different looks!
For this cottage-style mantel, I used a fun vintage find.  The "Cottages to Let" sign was an exciting splurge piece at an antiques show a few months ago.  These are exactly the kinds of pieces that I love investing in.
While it's living on my mantel this spring, I think it would also be perfect in a bedroom, bathroom, or even porch décor!
Pro Tip: When you find those pieces that you love so much, don't be afraid to bring them into your collection!  I'd rather have this one sign that is so unique than 10 pieces of wall décor from a big-box store!
I layered a large rectangle frame with the chippy arch frame and a small white mirror, alongside the cottage sign.  While those are a lot of pieces, I love how they work well together because they are all white and vary in size.  This is a fun example of layering in your favorites for a curated style.
Spring Cottage Accessories
I accessorized with some simple vintage book stacks, white and brass planters, and some fresh baby plants.
At the same time, I like to mix the old and new together and these pots are a fun example.
The $10 Walmart pot on the right has fun texture while the vintage McCoy pot on the left adds a collected look.  A simple touch of brass with another plant adds a reflective element and breaks up all the white in a subtle way.
I love mixing old signs together and added this vintage insurance sign over the top.  While it isn't spring-related, I love how the black and white signs and chippy patinas all work together!
Vintage signs are something that I am always looking for at antique malls, flea markets, thrift stores, vintage markets, and even boutique shops.  I mainly collect them in black and white, which allows me to mix and match them together for different looks.  It's a fun thing to collect and I love how they add some extra character to our home.
Here are some favorite accessories to decorate a spring cottage mantel:
Idea #3 to Decorate a Mantel for Spring: Easter
It is easy to see here that I kept many of the same elements as my spring cottage mantel.  The main difference is that I added a couple of bunnies.
I love that Easter décor really is that simple!  A few well-placed rabbits are really all you "need" for some fun Easter vibes!
I rearranged the mantel somewhat, though.  You'll notice that the cottage sign is switched to the other side and like I mentioned earlier, is off-centered.  This allows me to layer in some pieces for less-traditional, more collected kind of a look.
I replaced the large white frame with an antique gold one.  It is missing some pieces and is really chippy…just the way I like it! 
I recently bought a stack of old frames from a vendor that has all of his items shipped in containers from France.  So while I can't say for certain that is a French vintage item, there is a really good chance that it is and that just makes me happy!
I layered a smaller white frame (with some gold peeking through) and an even smaller blue-gray frame.  While these are not the same colors, they work together with commonalities of shape and style..
One of my favorite accessories for this mantelscape is the small architectural salvage piece.  It is a chippy trim piece and I just love the unique shape and patina on it.  I layered this in front of the cottage sign for a little extra character.
How to decorate a mantel for Easter
I added two white bunnies for a touch of Easter, along with the same books, plants, and pots from the spring cottage mantel.
For some extra Easter fun, I repurposed an Easter décor item that I've had for 10 years or so!  I got these eggs that spell "Happy Easter" from Pottery Barn many years ago and I love using them to decorate each year.  I like to cut bare branches from the yard and fill a vase, then add the eggs to the branches.
Fun fact: I had the perfect branch that we carefully moved…from two different houses…after our final move and renovation, my husband finally convinced me to toss the branch.  All of our items were in storage for several months, and I admit, a branch was kind of a silly thing to be carrying around.
At the same time, I still miss that branch.  It was the perfect size and shape!
So for this mantel, I decided to hang the eggs on a piece of twine along the front of the mantel.  I love that the eggs kind of turn and do their own thing, so it's a subtle "Happy Easter" and makes a simple statement.  They almost just blend right in, which I love.  However, they still give it that fun Easter touch!
Here are some fun Easter accessories you could easily add to spring mantel decorations:
How do you accessorize a mantle?
As you can see, there are so many ways to decorate and accessorize your spring mantel.  Actually, that is what I love about decorating.  It should truly be an expression of your own style.  A mantel is a great place to start with a focal point for the room.
These are some great tips to keep in mind when you go to decorate a spring mantel:
Work with odd numbers of items
Pick a theme or style and edit decor based on how well it tells that decor story
Keep a good balance with visual weight of the items, height, and number of items
Feature a curated collection
Mix old and new decor
Choose a main statement piece or inspiration piece and build the mantel decor off of that
You don't have to be a minimalist but do avoid a cluttered look by repeating color, style, texture, and pattern throughout the decor pieces
Most of all, have FUN decorating your mantel for spring.  It is the perfect season for cheerful touches, fun accessories, and fresh styles.
Hopefully this post gives you some ideas, inspiration, and pointers to help you get started on your spring mantel decor.  For more spring decorating ideas, check out the posts linked below too!
I hope this gives you some ideas and inspiration as you decorate your mantel for spring!  You could use these same ideas and concepts for decorating an entryway table, top of a cabinet, or shelf styling as well!
For even more spring decorating inspiration, I want you to click on over to my friend, Zevy, at Zevy Joy.  You'll love her home decor tips!  Make sure to visit all of the bloggers in the tour today!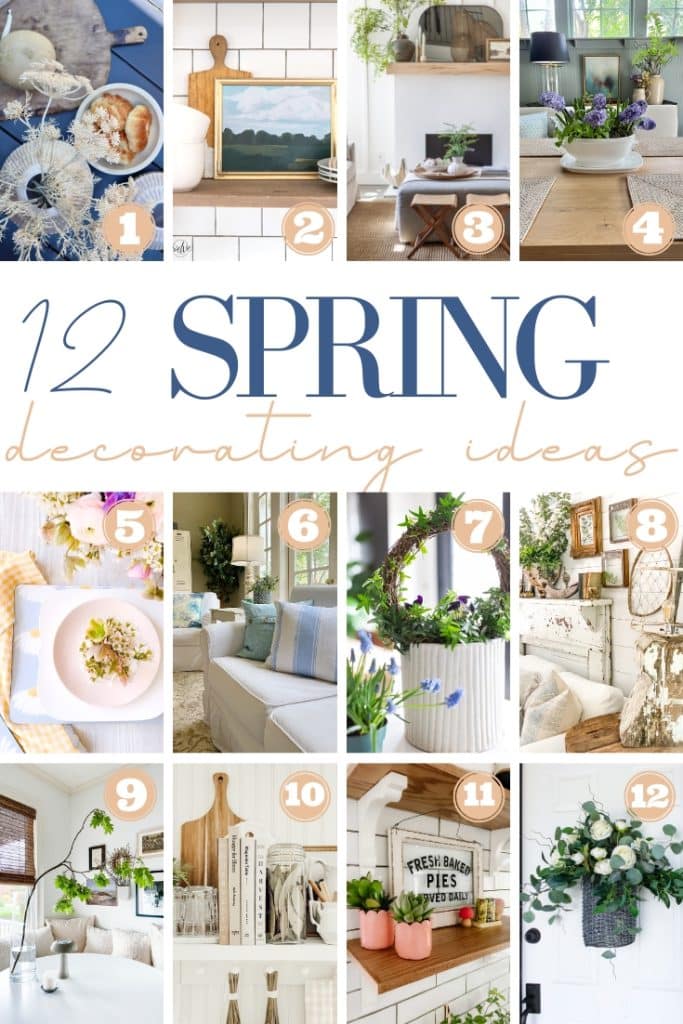 Blogger's Best Spring Decorating Ideas
You may also enjoy these decorating tips:
Blessings,
(As an Amazon Associate I earn from qualifying purchases.  Posts on Robyn's French Nest may contain affiliate links. You can see our full disclosure details here.)