5 Mistakes to Avoid for Christmas Tree Decoration Ideas
Looking to decorate your Christmas tree like a picture-perfect magazine? Don't overlook these 5 important things for Christmas tree decoration ideas.  You will want to avoid these common mistakes!
Keep reading for more Christmas tree decoration ideas and inspiration today from 16 other bloggers too!
Happy December!  Can you even believe the Christmas month has begun?  November definitely flew by and I am especially thankful right now that I finished up my Christmas decorating before Thanksgiving.  In case you haven't put up your Christmas tree yet, or are still working on it, I am joining some friends today to share some of our favorite tips, ideas, and inspiration for Christmas tree decoration ideas.
If you are hopping over from My Sweet Savannah, welcome!  I am so glad you've stopped by today and I hope you enjoy the tips and ideas.  Christmas decorating…okay, all decorating…is my favorite and I love sharing here on the blog and on my Pinterest and Instagram too!
For my regular readers, YAY!  It's December and I'm so happy you've stuck around through this busy season.  I have so many things I want to share in more detail throughout the month. If you're done decorating, no worries.  Tweak things as you go and save your favorite ideas to use year after year!
Today's post is one that you will want to save.  No matter the trends, themes, colors, or styles, these are 5 mistakes that you may want to avoid with your Christmas tree decoration ideas.  
Some might be obvious and certainly all are just my own opinion.  There are really no "wrong" ways to decorate your Christmas tree…after all, it is your home and your tree!  However, if I had to say there are 5 things that you absolutely should not do, these are what they would be:
Are you ready for this?!
5 Mistakes to Avoid for Christmas Tree Decoration Ideas
What should you avoid with a Christmas tree?
#1 Christmas tree decoration idea to AVOID:
Is it better to decorate the tree with the lights on or off?
This might seem obvious, but avoid decorating the Christmas tree with the lights off.  Instead, turn the tree lights ON before you start decorating the tree.
First of all, how many of us have been halfway through our decorating, realized we forgot the lights, plugged them in, and half of the lights didn't work?  I'm the only one?!?!
Secondly, having the lights ON will help you space your ornaments and fill in the tree better.  You will be able to see the more sparse spots on your tree to fill with larger ornaments.  You can tuck simple, inexpensive ornaments closer to the center of the tree to fill gaps in the greenery.  It is a lot easier to see where the gaps and holes are when the lights are on!
At the same time, it just feels good and cozy and I think it is more fun!  I love Christmas lights!
Pro Tip: Hang reflective ornaments closest to the lights for a more full and cozy tree decor style!
#2 Christmas tree decoration idea to avoid: Skipping the garland.
What is the correct order to decorate a Christmas tree?
The first thing to do is plug in the lights!  Secondly, fluff your tree.  For the optimal fluffy, full tree, you will want to take your time with this and make sure every branch is fluffed.
Thirdly, add garlands.  I highly recommend that you AVOID skipping garlands on your tree.  At the same time, I also recommend that you aren't skimpy with the garlands in your Christmas tree decoration ideas.  Garlands are a perfect way to get a professional, full, and lush look to your Christmas tree decor.
At the same time, garlands can really help you decorate your tree in a more budget-friendly way.  For example, I have had these white berry garlands for at least 16 years now.  Crazy, right?  Yet, every year, I get requests to please link them!  For 17+ years, these white berry garlands have been adding a beautiful touch to our family Christmas tree.  I can spread the branches out to fill a lot of space on the tree that would otherwise require more ornaments.
Pro Tip: For our 7.5′ family tree, I use four of these 5′ garlands.
Invest in full garlands that you can use for many years on your Christmas tree.  I recommend something in neutrals so you can reuse them year after year.  However, if you have traditional colors that you always use, go for it!  Or, if you like to switch your Christmas theme from year to year, garlands are a great way to change up the colors and style of your tree without having to replace all of the decor.
When decorating a tree what goes on first?
Be sure to get your garlands solidly in place before adding any ornaments.  Play around with the spacing until you love it.  Then, and only then, (speaking from experience), start having fun with the ornaments!
#3 Christmas tree decoration idea to AVOID: don't overspend!
How can I decorate my Christmas tree on a budget?
Undoubtedly, most of us probably spend more money on Christmas decor than any other season.  I mean, what's not to love?!  And it is so easy for me to get caught up in the moment and just love allllll the things.  Who's with me?!
When it comes to your Christmas tree decoration ideas, you should definitely avoid overspending.  If your budget allows for new themes, ribbons, ornaments, and garlands each year, go for it!  However, for most of us, we can really cut back on what we spend for the decor that actually goes ON the tree.
Here are a few tips:
Buy inexpensive ornaments in bulk to tuck into your tree for depth and dimension.  You can get a tub of ornaments that are still pretty, but budget-friendly, like THESE.  Get shatter-proof so that you can use them year after year.
Consider garlands over ribbon.  Garlands will last you many more years.  If you love ribbon, invest in quality ribbon.  Carefully roll it when you take down your decor and you can reuse it again next year.
Build your ornament collection over time.  Our family tree has some empty spaces…to me, that means we have space for a lot more memories!  When we take family trips, we  use part of our spending money to pick up ornaments from places we visit.  These become a special part of our family Christmas and fill our tree in a meaningful way.  Plus, we aren't going out and buying a bunch of random ornaments every year.
Make DIY ornaments!  I love these that we made from old architectural salvage pieces. You can get the full DIY tutorial (very easy and simple, by the way, over on THIS post!)
Watch at thrift stores and yard sales throughout the year.  Someone may be getting rid of a collection that you would really enjoy.  In fact, all of my vintage French horns and brass candlesticks have even come from thrift stores and yard sales!
#4 Christmas tree decoration idea to avoid: skipping the base.
Again, this is just my personal opinion, but a gorgeous tree can just feel incomplete without a solid base.  I like to put my trees in some kind of large basket or crate.  Then, I drape around the top with vintage fabric or grain sacks.
Traditional tree skirts can still do the trick.  However, the bigger and thicker, the better.  Consider even doubling the tree skirt so it is really full and thick!  Bottom line is that you want the base of your tree to have a really sturdy look to it.  It is also a great opportunity to add some texture and interest.
Don't forget about the packages under the tree!
The other thing to remember is that your gift packaging essentially becomes part of your Christmas tree decor too!  You can easily add (or take away) from the overall aesthetic of your Christmas tree just with your wrapping paper and gift packaging choices!
Avoid a cluttered, chaotic look by coordinating your paper, wrapping, and accessories for an overall cohesive look.
You can get my tips for easy, yet thoughtful, gift wrapping over on THIS post!
If you're looking for a tree skirt, here are some pretty options to consider:
#5 Christmas tree decoration idea to AVOID: don't skip traditions
I tried one year, shame on me.  When we finally had a playroom large enough for a Christmas tree, I thought I would do the "adult" thing and put the kids' handmade ornaments in there.  Then, we could have a pretty "designer" tree in our main living space.
Wrong.
I didn't even get them both decorated before I moved the special ornaments back where we loved them…right on our family tree.
Don't get me wrong.  I am not overly sentimental about keeping every single smudged, broken, crooked, odd-colored ornament that my kids have made over the years!  At the same time, I love having a few from each of them that are just always part of our family tree.  We have chosen ones that are more neutral in color and that way, they still blend in a beautiful way.
As I said at the beginning of this blog post, all of this is just my own opinion.  There is certainly nothing wrong, AT ALL, with an amazing themed tree.  They are so fun and we have some smaller trees that we decorate in different themed ways.  My point is simply this:
Avoid discarding tradition for a magazine-perfect tree.  
As particular and detailed oriented as I am, I cringe to think of my first years as a parent where I hurriedly "fixed" all of the ornaments just so on the tree.  Life is just too short!
How, then, you may ask, does our tree still look generally cohesive while also being traditional and even sentimental?
Here are a few tips:
When we purchase our family souvenir ornaments, we choose neutral colors in wood, white, gold, or silver.  That way, it will always blend with any Christmas colors we may choose to add down the road.
When I was growing up, my mom purchased an engraved ornament for my brother and I every year.  All of them are brass, engraved with the year.  We both had a nice little collection when we left home and the brass goes with everything!  Now for my own children, each child gets an ornament each year.  We do different kinds, but always in a neutral scheme.  There is a lot of personality and sentimentality represented in the details on our tree.  However, since the ornaments are kept within neutral colors, it all blends together for a curated, cohesive look.
If we get an ornament that has a red ribbon (it seems like lots of souvenir ones do!), I replace it with simple twine.
I absolutely love that our family Christmas tree tells the ongoing story of our little family.  We have so much fun remembering our family adventures as we unpack the ornaments each year.  I also love that we are building a family collection that my own children can enjoy when they start homes of their own!
Do you need help with what to put UNDER the tree?  
My family helped me out to create authentic gift guides for everyone in the family…things they will love and use!
Have fun with your tree!
The last thing to avoid is stressing over your Christmas tree.  I do everything I can to try and make our Christmas tree decorating a relaxing, fun time for everyone.  Remember…it's more about the memories and less about the perfection!!!
At the same time, there are so many great ideas to help you get your dream style of Christmas tree decoration ideas.  This blog hop is full of amazing tips!
Next, hop over to Annie at Most Lovely Things. You'll love her gorgeous tree and ideas!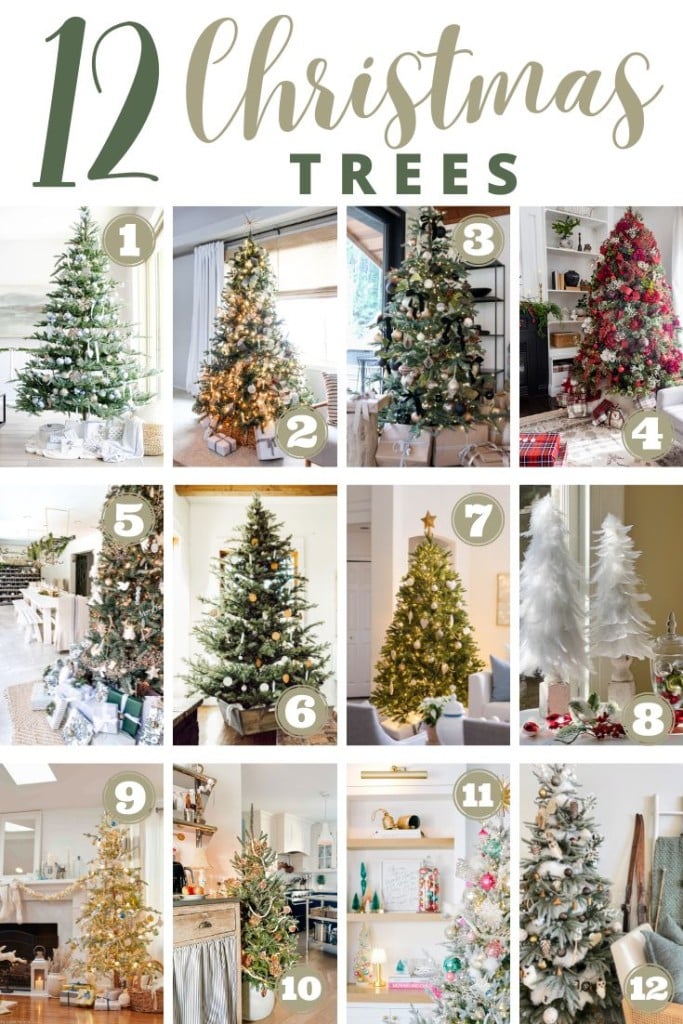 Blogger's Best Christmas Trees
Here are some other posts you may enjoy for the Christmas season:
Blessings,
(As an Amazon Associate I earn from qualifying purchases.  Posts on Robyn's French Nest may contain affiliate links. You can see our full disclosure details here.)